Broomboom Bike Pool/Sharing app.Kolkata  -The concept of using bike pool is growing rapidly in Kolkata. Bikes are the most used vehicles in our country. And now these vehicles are also used as taxis, thus, helping lots of people to commute daily on the streets. Bike  are the newest trend, that is growing rapidly in the City of Joy, Kolkata. Bikes are more convenient for a passenger. Quick to get to a location in the busy metropolitan cities like Kolkata.
People are getting more adaptable to bike taxis than cabs or yellow taxis. Youngsters, teenagers even elders also have a different fascination and love towards bike rides, hence are getting more used to book bike taxis to go their destination. The concept of using bike as a taxi has been growing rapidly in the market and leading to the launch of many new bike-taxi apps. The newly launched bike taxi app in Kolkata in 2023 is Broomboom App.Kolkata
Broomboom is the newest fastest growing bike taxi in Kolkata. It has already covered many places of West Bengal and is rapidly expanding its roots in other areas also. People of Kolkata is using this upcoming newly launched Broomboom Bike Ride Share app.kolkata a lot over other apps because of various reasons:
Firstly, Broomboom bike Pooling are too affordable and cheaper than other bike taxi app. One can easily go from one place to another at a very low fare compared to other transport modes. Since, bikes can easily dodge through the traffic, hence it is best for office goers, youngsters, college students and this app generally provides many offers and coupons for their users. Even, there are monthly passes too for the daily commuters, where they get huge discounts on each and every single ride share.
Secondly, Broomboom bike taxis are one of the fastest bike taxi app not only in Kolkata but in every part of the State. Punctuality, is one of the major principles of this app. By providing on time pickups and drop facilities, it has became the most used bike taxi app in cities like Kolkata. The drivers, known as pilots, are very much professional. They are trained properly and are aware about all the short ways to reach to a location.
Thirdly, since Broomboom bike taxi is available everywhere anytime. It provides 24/7 services with full assistance and 24*7 emergency support . People of rural areas is now easily getting connected with the people of urban areas via bike ride share app. It has also focused on the safety of both its riders and users by enabling many safety features like Audio Video Surveillance, GPS Tracking, SOS, Emergency Support, Ride Pooling and many more. Not only, your rides are getting recorded for safety and proper ride records but also you can easily share your rides to your loved ones on WhatsApp or any social channels so that your loved ones can track your real time location and remain tension free when you ride pool with Broomboom in their app, hence people are getting more used to this rising newly launched Bike RideShare App.Kolkata. Check out the queries people have regarding this newly launched bike pooling app.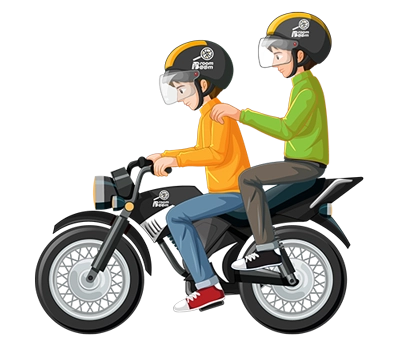 Frequently Asked Questions (FAQs) :
Is Broomboom bike pool app available in Kolkata ?
– Yes, Broomboom Bike Pool/RideSharing App is available in Kolkata. Book Now
Is Broomboom bike taxi cheaper than Ola/Uber/Rapido ?
– Yes, Broomboom bike taxi is far cheaper than Ola/Uber/Rapido. It provides huge discounts in every single rides.Book Now
Is bike Pooling app legal in Kolkata ?
– Yes, Broomboom bike taxi has been authorised and has all the permits to ride share in the city freely and quickly. Book Now
Is Broomboom a new brand in Kolkata ?
– Broomboom is the upcoming latest brand in Kolkata as it is the rising newly launched bike taxi App.Kolkata. Book Now
Is Broomboom a motorcycle Ride Share app.kolkata ?
– Yes, Broomboom is a motorcycle ride share app.kolkata . It is the newly launched motorcycle ridepool app.Kolkata and is currently the trending bike taxi app in Kolkata. Book Now