Kolkata Durga Puja Car Route Map Guide in 2023
Kolkata, the "City of Joy",  is famed for its vibrant culture and extravagant celebrations, especially during Durga Puja. The air becomes electric with excitement as the city gears up for this annual festival, celebrated during the month of September or October, as per the Georgian Calendar,  marked by the magnificent Durga pandals, 2023 in West Bengal and enthusiastic devotees from all parts of India. For those eager to explore the grandeur of Durga Puja and indulge in pandals hopping, a convenient and efficient way is through car rentals in Kolkata. BroomBoom Cabs, a prominent car rental service, offers Kolkata Durga Puja 2023 car rental packages, providing a hassle-free way to traverse the city during this festive season.
Exploring Durga Pandals: A Kolkata Tradition
Durga Puja, also known as Navaratri, is a significant Hindu festival celebrating the victory of Goddess Maa Durga over the buffalo demon Mahishasura. The victory of Maa Durga, on the 10th Day after the Great war that continued for 9 Days with the Demon Mahishasura, is a perfect example of Women Empowerment (Shakti), the Victory of Good over Evil. This festival takes on a unique fervour this Year, with lavishly decorated pandals, artistic idols, cultural performances, and elaborate processions. Devotees and tourists alike flock to witness the creativity and artistry that go into these temporary structures, housing idols of Goddess Durga, both during the day and night hours on the Streets of Kolkata.
Pandals hopping has become a quintessential part of the Durga Puja experience in Kolkata. Each pandals is a masterpiece in itself, showcasing various captivating themes and designs that captivate the audience all across. From traditional to contemporary, every pandals narrates a story and presents an artistic expression, expressing the Cultural ethnicity of the Great Kolkata.
Explore the Routes of Kolkata Durga Puja Pandals, 2023
We are providing you a complete Car Route Map of all the Routes of Kolkata that will guide you to cover all the Top Durga Puja Pandals of Kolkata. Based non this Route Map, you can plan your Pandals Hopping with ease. Kolkata Durga Puja is starting from 20th October till 24th October, 2023 with its top verge of spreading happiness and excitement in the air of Kolkata. Now, Plan all of your days easily with the following Durga Pujo Cab Guide
Dum Dum: Start your Pujo Pandals visit from the Two famous Clubs in Dum Dum –
Chowddar Pally Sarbojanin
Sinthi Sarbojanin
Belgachia: Visit the top Pandals with BroomBoom Cabs car rentals –
Metro Railway Abasik Sangha
Belgachia Sarbojanin (Tala Park)
Natun Palli Pradeep Sangha
Netaji Sporting
Laketown Association
Bharatchakra
Dum Dum Park
Sri Bhumi
ShyamBazar: Now, Let's move forward to our next destination –
BaghBazar
Shyam Square
Friend's Union
Jagat Mukherjee Park
ShobhaBazar: There are many Top Pandals in ShobhaBazar. Explore all in our Spacious car rentals –
Aheritola
Beniatola
Kumartuli Park
Rajbari
Hatibagan Sarbojanin
Yubakbrinda
Gouribari
Telenga Bagan
Chalta Bagan
Girish Park: Girish Park, is one of the Oldest renowned places for Artistic Durga Pandals –
Bedon Square
Shimla Bayam Samity
37 Pally
Vivekananda Sporting
Rabindra Kanan
Pathuriaghata
Pancher Palli
G. Road: Top 3 Pandals are awaiting for your visit here –
Ali Park
College Square
Sealdah Railway Athletic Club
Central: Central Pandals are known for enlightening their Cultural spirit –
Santosh Mitra Square
Subodh Mullick Square
Kapalitola
Chandni Chowk: Here is the best 2 places to explore out –
Janbazar
Taltola Sarbojanin
Rabindra Sadan: Now, This Metro Place is not less than the other places-
Ghokhel Sporting
Chakraberia Sarbojanin
Netaji Bhawan: This place has many famous pandals, all with different themes and stories, waiting to reveal this Year –
Harish Park
22 Pally
Padampukur Youth Association
Paddapukur Barwari Samiti
Bhawanipur Durgotsav
75 Pally
Sanghamitra
Maddox Square
76 Pally
Roy Street Park
Bhowanipore
Bhawanipur Swadhin Sangha
Jatin Das Park: After visiting the Top famous Durga pandals at Netaji Bhawan, plan your next day start from here –
Jatin Das Park
23 Pally
Forward Club
Matri Mandir
Bakul Bagan Sarbojanin Durgotsav
Kalighat: Kalighat is one of the renowned Shaktipeeth in West Bengal. This pilgrimage place brings many famous pujo pandals to welcome the stay of Maa Durga in a grand way –
Deshapriya Park
Sanghashree
Prasar Nabodaya Sangha
Badamtala
Samajsebi
Ballygunge Cultural
Ekdalia Evergreen
Singhi Park
Adi Lake Pally
Rabindra Sarobar: Moving forward in BroomBoom Cabs to the next stop-
Nabapalli Sangha
Suruchi Sangha
Mudiali
Shib Mandir
Tarun Sangha
Mahanayak Uttam Kumar: With our Luxury Sanitized car rentals, explore the best Pujo Pandals, 2023 by visiting here once –
Ashoknagar
Ajaya Samiti
Barisha Club
Pally Unnayan Samiti
Graham's Land Sarbojanin Durgotsav
Putiary Club
41 Pally Club
Haridevpur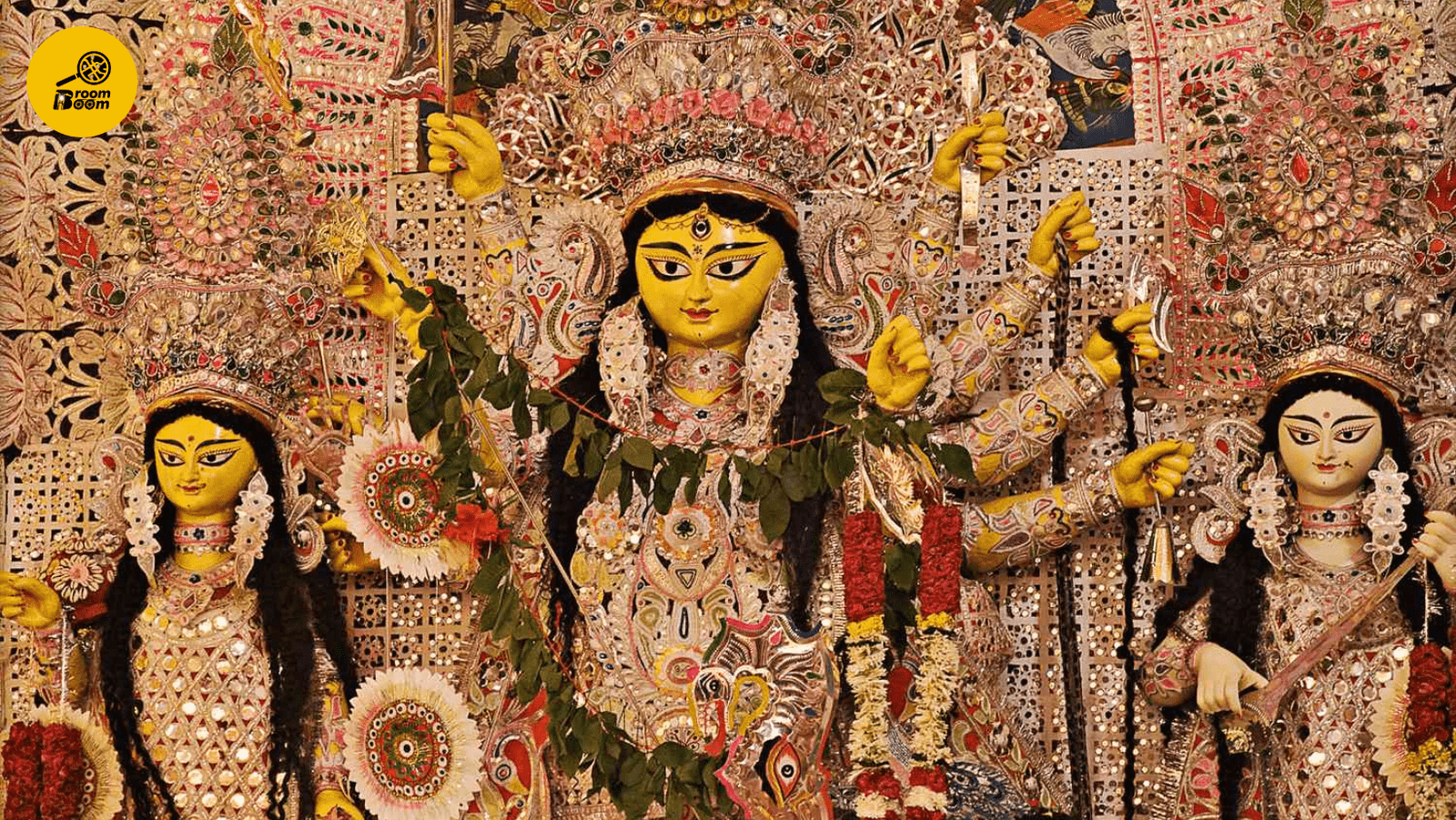 Netaji: BroomBoom Cabs car rental will also lead you to discover these two Artistic pandals also –
Pally Unnayan Samity
Netaji Nagar Sarbojanin Durgotsav
Masterda Surya Sen: The top Oldest Pujo Pandals over here are –
Maitree Park Sarbojanin
Roynagar Unnayan Samity
Gitanjali: We have one good Pandal to see here, which we can't miss out –
Kavi Nazrul: The Last we come at covering all routes are –
Pancha Durga Sarbojanin Durgotsav
Naba Durga Sarbojanin Durgotsav
With our complete Durga Puja Packages, You will be able to cover all the Pujo Pandals of Kolkata without missing out even a single pandal. Schedule your Ride now only to enjoy this Festival in your Own Way with Comfortable Top Quality Cabs at your Doorstep.
Convenience of Durga Puja Car Rental in Kolkata
To enhance the experience of pandals hopping and ensure convenience in traversing the entire City, Car Rentals prove to be an ideal choice. With Kolkata Durga Puja 2023 Car Rental Packages, visitors can navigate through the pandals in a very  comfortable and efficient manner. BroomBoom Cabs, a trusted car rental service, offers seamless premium car rental experiences through their user-friendly Luxurious Car Rental App, with amazing complete Durga Puja pandals cab packages.
The benefits of opting for car rental services during Durga Puja are immense. Firstly, it saves your time and effort in finding parking spaces, allowing you to focus on enjoying the festivities and sending the grand making of Pandals. Additionally, the flexibility of choosing your own travel route and timing ensures a personalized experience, optimizing your Durga Puja adventure, on your Own Style.
BroomBoom Cabs: Your Durga Puja Car Rental Partner
BroomBoom Cabs, a leading car rental service in Kolkata, understands the significance of Durga Puja and the desire to explore the city's cultural richness during this time. They offer specialized Kolkata Durga Puja 2023 car rental packages, tailored to meet the specific needs of festival-goers, be it North Kolkata, South Kolkata or Central Kolkata Pandals Hopping.
With BroomBoom Cabs, you can select the type of car that suits your preferences, be it a compact sedan for a small group or a spacious SUV for a larger gathering. Our fleet of well-maintained vehicles of Latest Model with Skilled and Knowledgeable Pilot ensures a comfortable and enjoyable ride as you hop from one pandals to another, soaking in the festive atmosphere.
Booking a Durga Puja Car Rental with BroomBoom Cabs
Booking a car rental for Kolkata Durga Puja with BroomBoom Cabs is a straightforward process, through our intuitive car rental app. Users can easily download the app, choose their preferred car, set the desired pick-up and drop-off locations, or Select the Durga Pandals Car Rental Packages (for 8 hours or 10 hours or 12 hours) and confirm the booking. You can easily pre-schedule your Car in advance for your Pandals Hopping to get assured best cabs reserved for your Pandals Visit with Top rated Pilots, who are properly trained enough to take out to the Top Durga Pandals, 2023. The app also provides real-time tracking, ensuring you're always informed about the car's location and estimated arrival time.
The Kolkata Durga Puja 2023 car rental packages offered by BroomBoom Cabs are designed to cater to varying budgets and travel requirements. Whether you're a solo traveller or in a group, there's a package to suit everyone, making your Durga Puja exploration convenient and enjoyable.
Durga Puja in Kolkata is a spectacle that should not be missed, and what better way to experience it than through convenient car rentals. BroomBoom Cabs, with their specialized Kolkata Durga Puja 2023 car rental packages and user-friendly car rental app, makes pandals hopping an absolute joy for all, be it Couples, Families, or Friends.
Embrace the festivities, witness the artistic brilliance of the pandals, and celebrate the triumph of good over evil with ease and comfort by choosing BroomBoom Cabs as your Durga Puja car rental partner this Year. Enjoy the magic of Durga Puja, one pandals at a time, with the convenience of a rented car.