Discovering Top 10 North Kolkata Durga Puja Pandals in 2023
Discovering the Essence of Durga Puja: Pandals Hopping in North Kolkata with BroomBoom Cabs Car Rental Services.
Durga Puja, one of the most anticipated and vibrant festivals in India, particularly in Kolkata, West Bengal, celebrates the triumph of good over evil. The city adorns itself in a kaleidoscope of colours, art, lightning and cultural displays during this time. Among the numerous festivities that accompany this grand celebration, Durga Puja pandals hopping stands out as a cherished tradition, welcoming millions of people from foreign lands as well as other parts of the Country. Exploring the intricately crafted pandals is an experience that locals and tourists eagerly anticipate, especially in the northern part of Kolkata.
As Durga Puja approaches, the city of Kolkata becomes a bustling hub of activity, creating a strong urge in the hearts of Bengalis (Bongs) living away from their motherland to come back to their Place to feel the beauty and festive vibes of Durga Puja with their families and friends, whom they haven't met for a long while. The beating heart of this celebration lies in the beautifully designed expensive "Durga Puja" pandals, each unique and representative of diverse themes and artistry, the famous "Dhunuchi Dance", the beats of the "Dhak Dhol", The "Kanshor", The "Conch Shells", all beats the heart of Bengalis or Non- Bengalis with excitement and upmost Joy to Sing, Dance, and Celebrate the famous Durgotsav. North Kolkata is renowned for hosting some of the most stunning pandals, drawing crowds from all corners of the city and beyond.
To fully embrace the spirit of Durga Puja and make the most of the pandal hopping experience, many turn to car rental services. BroomBoom Cabs, a prominent premium Car Rental App, offers specialized Durgotsav Car Rental packages, enabling enthusiasts to traverse through the maze of pandals conveniently and comfortably in heavy traffic also. Renting a car for pandal hopping ensures a seamless and enjoyable experience, avoiding the hassles and swarm of crowded public transportation and allowing visitors or squads to explore the nooks and corners of the city at their own pace.
BroomBoom Cabs understands the significance of widely celebrated Durga Puja and the excitement associated with pandal hopping with your dearest ones. Our luxurious car rental services are tailored to meet the unique needs of this festive season, providing well-maintained vehicles having spacious and comfortable seats with experienced localized drivers who are well-versed with the best routes to navigate the pandal-hopping frenzy. With BroomBoom Cabs, travellers can choose from a variety of sanitized, fully air conditioned vehicles ranging from Prime Sedan Latest Models (like Swift Dzire) to Prime SUVs or MUVs Latest Models like Ertiga, Scorpio, Bolero) or Classy Innova and Innova Crysta that suit your preferences and group size, making the journey a memorable one.
North Kolkata, a treasure trove of artistic creativity during Durga Puja, boasts a plethora of pandals that captivate the beholder. From traditional themes depicting mythological stories to modern, abstract designs, each pandal narrates a story through its craftsmanship and decor. With a rented car at their disposal, enthusiasts can hop from one pandal to another, immersing themselves in the rich culture and heritage of Kolkata.
The Famous Top 10 Durga Pandals in North Kolkata that you must visit are:
Kumartuli Park: Visit this Kumartuli Park in BroomBoom Cabs to see their 2023 Durga Puja unique theme, Ambition, comes to Life and how the decoration will depict it.
Baghbazar Sarbojanin: Baghbazar's iconic pujo is the Oldest Puja,  more than over 100 years old, and is known for its "Ekchala Pratima" (idol) and the age-old Puja rituals, creating the same idol every year without any change in the design, colour or structure by being a crowd-puller.
Hatibagan Sarbojanin: Explore the Innovative Pandal with BroomBoom Car Rentals that uses artificial intelligence in the Maa Durga Idols to capture the amazing expressions of the Devotees.
Sovabazar Rajbari: BroomBoom Cabs will  take you to feel the simplicity and traditions of Rajbaris Pujos, that set up in "Sabeki ek-chala-style" (Traditional Durga Idols placed on a single platform). Visit Dashami Day to enjoy the "Sindoor Khela" and "Dhunuchi Naach" here.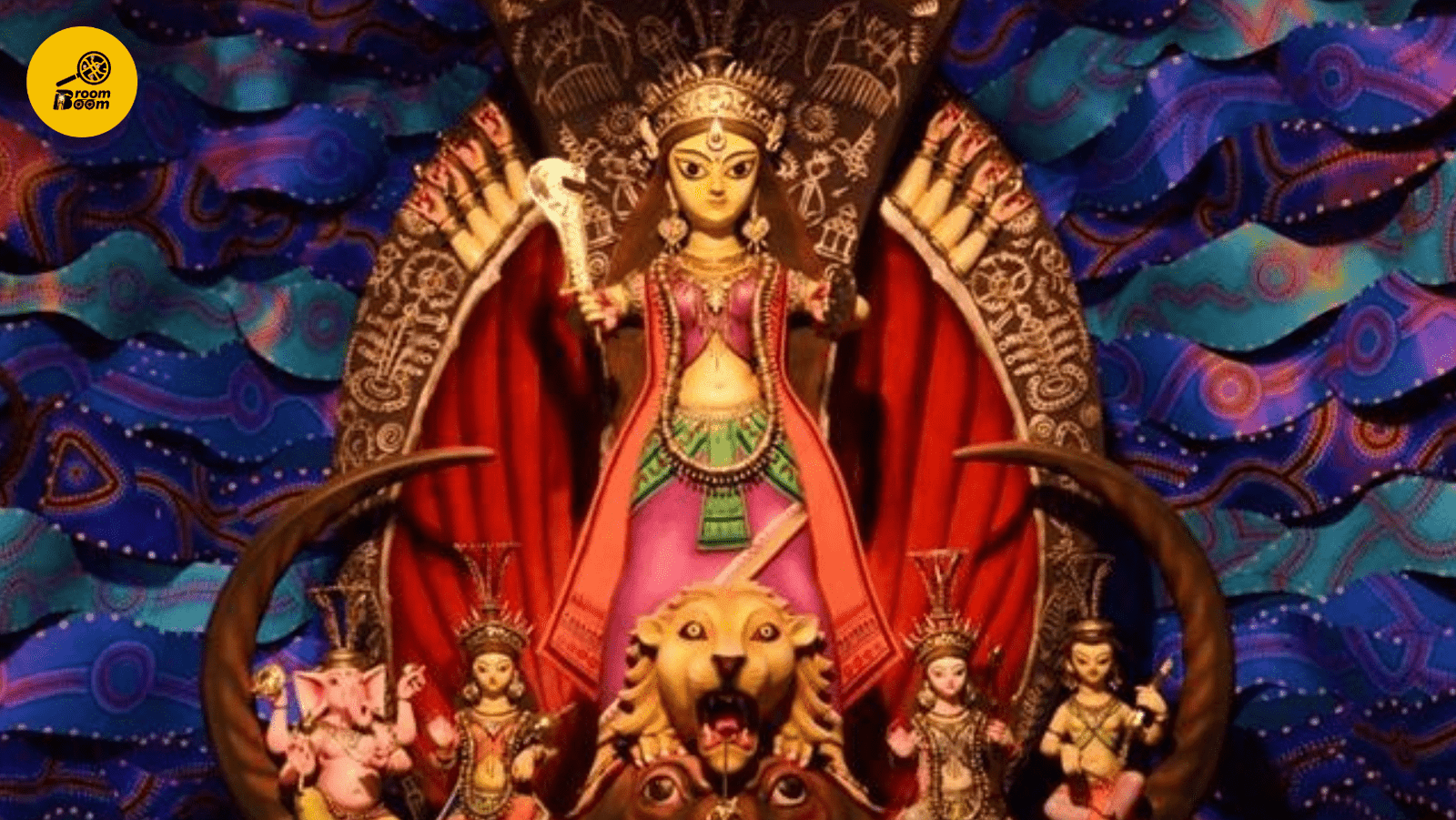 Ahiritola Sarbojanin Durgotsav: Book in Advance BroomBoom Car Rental in Kolkata this puja to delight your eyes with the magnificent Somnath Temple of Gujarat, as this Year, the entire set up theme of the pandal resembles the temple of Gujarat with Maa Durga idol made of stone.
College Square: Do not pass up the opportunity to attend this grand pandal in BroomBoom Cabs as College Square's Pandal 2023 theme will be the "Mysore Palace", showcasing iconic architecture and traditional regal work.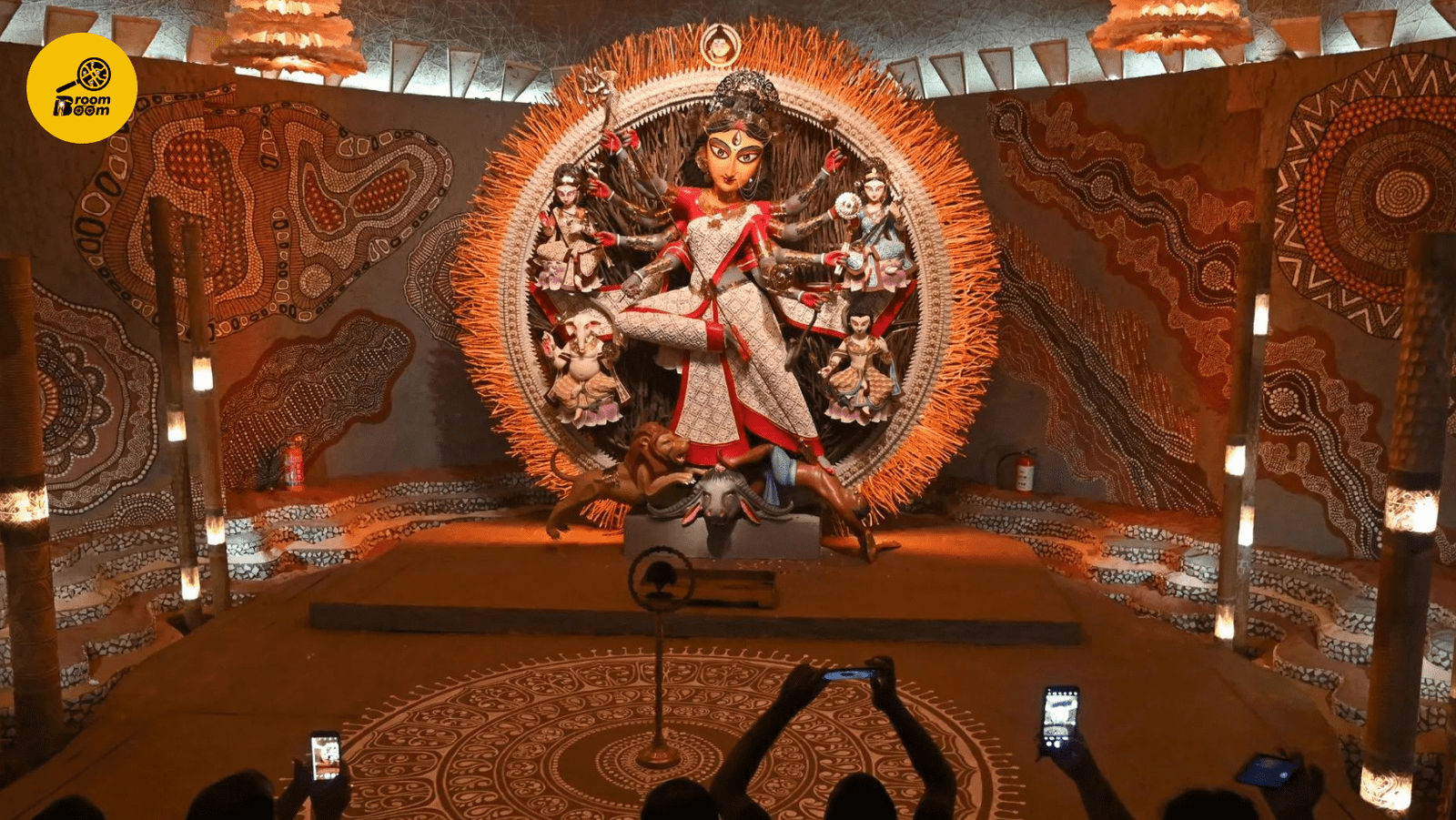 Jagat Mukherjee Park: Explore the 2023 Durga Puja Special theme of Jagat Mukherjee Park, honouring "Phulkumari Das", an established artist's model, who has been a live nude model since she was of 16 years old. Schedule your car rental ride in advance with BroomBoom Cabs at best deals to find out how this club plan to honour her fraternity this year.
Telengabagan: This Year, Telengabagan is coming up with a wonderful themed around reincarnation, where the idol of Maa Durga will be surrounded by different gods and goddesses depicting different emotions. BroomBoom Cabs car rental services will take you to this Pandal where Maa's hands instead of having any weapons in hands, imitations of rays of lights will be coming out of them, which will be visible right from the entrance with sounds surreal indeed.
Shreebhumi Sporting Club: This Club has always been known for coming up with unique amazing architectures and themes leaving all astonished during the Durga Puja. This year 2023, Shreebhumi is bringing the "Disneyland" in Kolkata for all the dreamers to make their dream turn into reality! Get your dream visit to Disneyland real with BroomBoom Car Rental Services.
Pallir Jubak Brinda Club: Our car rental will take you to commemorate the Chandrayaan-3's triumph to the Pandal creating a sizable Vikram replica with Maa Durga seating on a model of a lander, on the ground resembling the surface of the moon. Visit the Sitaram Ghosh Club in North Kolkata, on the inauguration day which would be done by the father of an ISRO Scientist. You won't be able to miss out to grab any festive opportunity with BroomBoom Durga Puja car rental packages.
Naktala Udayan Sangha: This Club has come up with a brilliant idea after the recent tragic event happened at a prestigious university, where it will showcase the evils of ragging our upcoming generations are facing and how the menace can be eliminated from the society, with a strong hope that the community ties can be strengthened sooner.
Explore all the North Kolkata Pandals, 2023 with Our Premium Car Rental Services and reveal the wonderful Durga Puja pandal themes coming up with significant meanings to spread awareness, happiness and positive in the Country this Durga Puja Carnival 2023
BroomBoom Cabs Durgotsav car rental packages (starting from 5 hours, 8 hours till 10 hours, 12 hours) to ensure affordability and ease of use, catering to both locals and visitors alike. Whether it's a family outing or a group of friends eager to experience the fervour of Durga Puja, renting a car through the app guarantees a hassle-free pandal-hopping adventure.
In conclusion, Durga Puja pandal hopping in North Kolkata is a must-do experience during this festive season amidst the COVID pandemic. Enhancing this experience with BroomBoom Cabs car rental services allows individuals to indulge in the festivities, exploring the beauty of Kolkata's pandals with ease and comfort. Embrace the colours, art, and devotion that define Durga Puja by embarking on a pandal-hopping journey in the cultural heart of North Kolkata.